Service Details
Facial Treatments
Deluxe Facial; $45.00
Includes deep cleansing, steam, exfoliating, mask, massage, hydration and what else is deemed necessary by skin condition.
Acne Facial; $45.00
deep cleansing, steam, marine peel, extraction, hydration and what the skin condition dictates.
Microdermabrasion; $45.00
A diamond tipped wand is gently moved over the skin, lightly removing a few layers of skin promoting regeneration. The skin is brightened and scars are lightened. Scars and pigmentation can be removed after several treatments.
Hi-Frequency; $40.00
A glass wand filled with charged gasses is gently passed over the skin sterilizing and tightening the skin.
Galvanic; $40.00
A roller glides over the face helping to push treatment products into the skin either positive or negative according to what
is needed by the clients skin.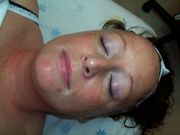 Call Anytime 605-237-1082